Company Experience
Technology Crest Corporation has provided services for more than 10 years the following are the summary of projects:
California Department of Health Care Services (DHCS) www.dhcs.ca.gov
Enterprise Identity and Access Management (IAM) Architecture and Design

Development of working model and evaluation of multiple vendor for Federated IdAM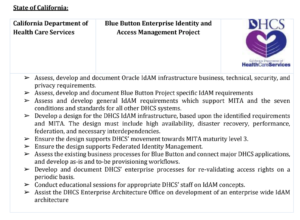 California Department of Technology www.cio.ca.gov
Planning, developing and maturing a Security Operations Center (SOC)

Cyber Security support for Intrusion Detection System (IDS), Intrusion Prevention Sensor (IPS), threat assessment, risk mitigation, investigation of high priority alerts

Security information and event management (SIEM) support

Scrum, Agile and Project management training
University of California Davis Health www.ucdmc.ucdavis.edu
Enhance Business Continuity (BC), Disaster Recovery (DR) and Technology Resilience (TR)

Provide the best support by leveraging the current technologies including Infrastructure, Platform, and Software as Service (Cloud).

Improve efficiency, control cost, reduce paperwork and human error by adopting standards such as HIPAA, Electronic Health Record (EHR), Health Information Exchange (HIE)
United States Department of Energy www.bpa.gov
EA, Business Process Management (BPM), Data Center Modernization, PeopleSoft ERP system integration

Mapping of Project and Data Elements for the overall meta model

Development of Enterprise Architecture framework interfacing all the Systems

California Board of Equalization (BOE) www.boe.ca.gov
Systems Analysis, Natural, ADABAS Programming Services

California Department of Tax and Fee Administration www.cdtfa.ca.gov
Business Analysis of various propositions from the state legislature and its impact in the tax

Facilitate Joint Application Development (JAD) Sessions, Develop, maintain, document, and review system requirements.

Develop System Test Scripts/Plans/Documentation, Regression, and User Acceptance Document, and track defects found during system test.
California Public Employees' Retirement System (CalPERS) www.calpers.ca.gov
Quality Assurance and Quality Control for W3C and American disability act compliance

my|CalPERS Portal / .NET solutions to support the INVO group

Perform web application penetration security testing for CalPERS web applications using manual and automated techniques using provided commercial proxy tools

Provide security analyses and recommendations to application development teams for implementing administrative, physical and technical controls to mitigate findings

Automation testing for various application and support production and maintenance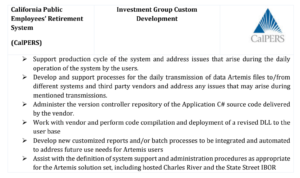 California Department of Corrections and Rehabilitation (CDCR) www.cdcr.ca.gov
Enterprise Architecture

Identity and Access Management

SAP / ERP Application Security, Development and Reporting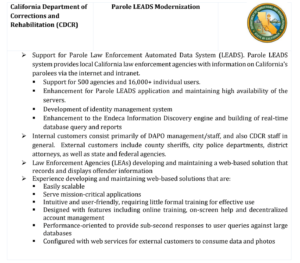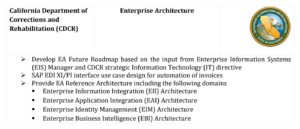 California Department of Fish and Wildlife (CDFW) www.wildlife.ca.gov
Marine Data Warehouse Design and Development using new database

Historical Data Migration, Validations and develop modern reports from existing systems
Regional Information Sharing Systems (RISS) www.riss.net
Developed an extranet solution for 1000 of Law Enforcement Officers in the Western Region (Serving Alaska, California, Hawaii, Oregon, and Washington, as well as Canada, Guam, and New Zealand) located in Sacramento, CA
California Correctional Health Care Services (CCHCS) www.cphcs.ca.gov
Clinical Applications Migration (CAM) / Project Management Services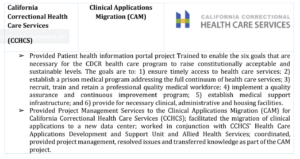 California Department of Social Services (CDSS) www.cdss.ca.gov
Income Eligibility Verification System (IEVS) / Provide reference architecture and standards for security, application, business, information and technology domains aligning with the Federal and State recommended framework

California Department of Motor Vehicles (DMV) www.dmv.ca.gov
IT Modernization / Programming Services for modernization of DMV information technology process

Wells Fargo www.wellsfargo.com
Enterprise Architecture for IT Standards and Modernization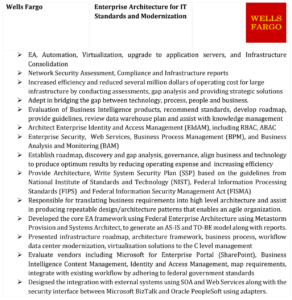 JP Morgan Chase www.jpmorganchase.com
Systems Migration / Development of custom applications using J2EE, Java, Oracle, Service Oriented Architecture and Application integration with multiple systems
Mercedes Benz www.mercedes-benz.com
Information Architecture, Business Intelligence support using IBM Cognos, specialized reporting from data warehouse, build custom data marts
Chevron www.chevron.com
Service Oriented Architecture (SOA)/ Program management, development of custom applications using SOA and Application integration with multiple systems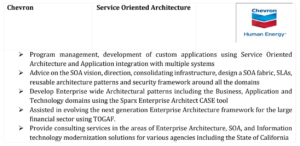 Blue Cross Blue Shield www.bcbs.com
Mainframe legacy system migration, Business analysis, system integration with web based systems

Hewlett Packard www.hp.com
Enterprise Architecture, Security roadmap, Business Intelligence support, Information architecture, Logical data model, Business process model, automation and virtualization of data center, performance test of large scale global deployment.
State of Oregon www.oregon.gov
Enterprise Architecture, Business Process, Legacy System Conversion, Migration to Web based system and high availability architecture

California Public Utilities Commission (CPUC) www.cpuc.ca.gov
Penetration Test Findings and Information Security Assessment report

Network Security Assessment

Fidelity Investments www.fidelity.com
Fidelity Financial Planning Engine / Financial Planning Engine is research tool or platform that directly enables the Financial Solutions team to perform planned and ad-hoc analysis in response to business partner or market demand, resulting in the development of new financial planning methods as well as the publishing of thought leadership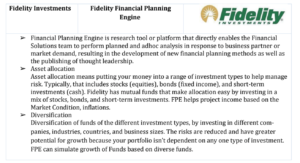 Railroad Commission of Texas (RRC) www.rrc.state.tx.us
Modernized the payment portal from the existing aging legacy systems to flexible web-based environment. It is envisioned to be one stop payment System for all the systems to allow the accurate and efficient registration of money received by the Commission.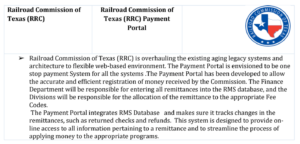 California Department of Industrial Relations https://www.dir.ca.gov/